Actor Paul Herman, best know for playing Peter "Beansie" Gaeta in The Sopranos, has died, according to Tony Danza's Instagram account.
Herman died on March 29, 2022, his 76th birthday. 
"Paul (Paulie) Herman was one of the greatest guys of all time," Danza wrote.
"A great actor and a great friend. If you visited NYC from LA, he was the entertainment director. We will all miss you so much, Paulie."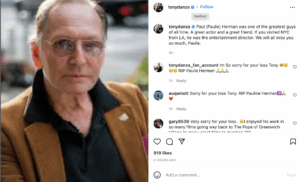 Herman was known "for playing Randy in David O. Russell's dramedy Silver Linings Playbook (2012) and Whispers DiTullio in Martin Scorsese's crime epic The Irishman (2019)," according to Herman's Wikipedia page. 
He also appeared in the following films:
The Sopranos Beansie Gaeta 
Herman is perhaps best known to Sopranos fans for his recurring role as Peter "Beansie" Gaeta.
Beansie was a Sopranos family associate and a member of the Aprile crew.
In season two, episode 3, "Toodle-Fucking-Oo," Richie Aprile, the older brother to Jackie Aprile Sr., the late acting boss of New Jersey's DiMeo crime family, is released on parole after serving ten years in prison.
Michael Rispoli plays Jackie Aprile.
Richie Aprile's niece, Adriana La Cerva, drops off Aprile in Elizabeth, New Jersey, upon his release from prison.
He immediately seeks out Beansie to extort money from him.
Aprile, played by David Proval, walked into Beansie's Elizabeth pizza parlor and indignantly berated Beansie for apparently failing to visit him while he was in the can.
"10 years – and not even a pleasant 'Go fuck yourself' from you I get," Richie said.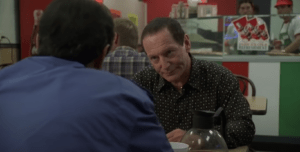 Beansie subsequently grabbed the attention of one of the young male servers and instructed him to bring his old friend "a nice veal parm sandwich" and to "hurry the fuck up about it."
Richie reminded Beansie that he put Beansie "in action" and that he'd be back every Saturday to collect money from him.
"I'm being shaken down for what? What did I do? Tell me, what did I do?" Beansie asked Richie.
Beansie told Richie he wasn't "going to lay down" and that he'd step up to Richie, presumably under the protection of Tony Soprano, with whom he was friends.
An infuriated Richie smashed a pot of hot coffee over Beansie's head and severely beat him in the middle of the pizza parlor for all to watch.
Later, Richie ran over Beansie with his car, leaving Beansie severely injured and hospitalized.
Richie's attempted murder of Beansie left Beasnie a paraplegic and permanently confined to a wheelchair.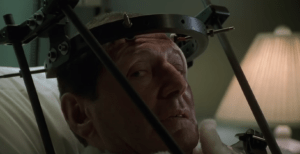 Beansie's Backstory 
Beansie Gaeta began associating with the DiMeo crime family as a low-level drug dealer.
He matured under the guidance of DiMeo capo Richie Aprile and was eventually promoted to running a successful heroin trafficking operation during Jackie Aprile's tenure as acting boss during the '80s.
In the early '90s, according to the website Sopranos Fandom, "Richie Aprile was arrested and sentenced to a 10-year prison term (possibly for the heroin dealing he conducted with Beansie)."
Beansie avoided prosecution and stopped selling drugs, ultimately investing his drug-profit money into a series of successful pizza parlors.
Beansie Moves to Miami 
Beansie eventually left New Jersey with his wife Gia Gaeta, played by actress Donna Smythe, and relocated to Miami, where he opened a supper club.
Keeping in touch with Tony Soprano, Beansie assisted Tony in setting up a meeting with the Lupertazzi crime family capo Little Carmine Lupertazzi, played by Ray Abruzzo.
In season six, Tony secured a job for his son, AJ Soprano, played by Robert Iler, at one of Beansie's New Jersey pizza parlors, where AJ eventually became the manager.
Rest in peace, Paul Herman.
About the Glorified Crew Sopranos Blog 
Follow the Glorified Crew Sopranos blog for the latest Sopranos commentary, memes, show analysis,  trivia, and so much more!
Check out Glorified Crew's latest piece proving Jimmy Altieri was a rat!
We encourage you to share this thread on your favorite Sopranos Facebook Groups and Reddit Threads!
Please email us your thoughts about this article at TheSopranoCrew@gmail.com.
Anyway, four dollars a pound.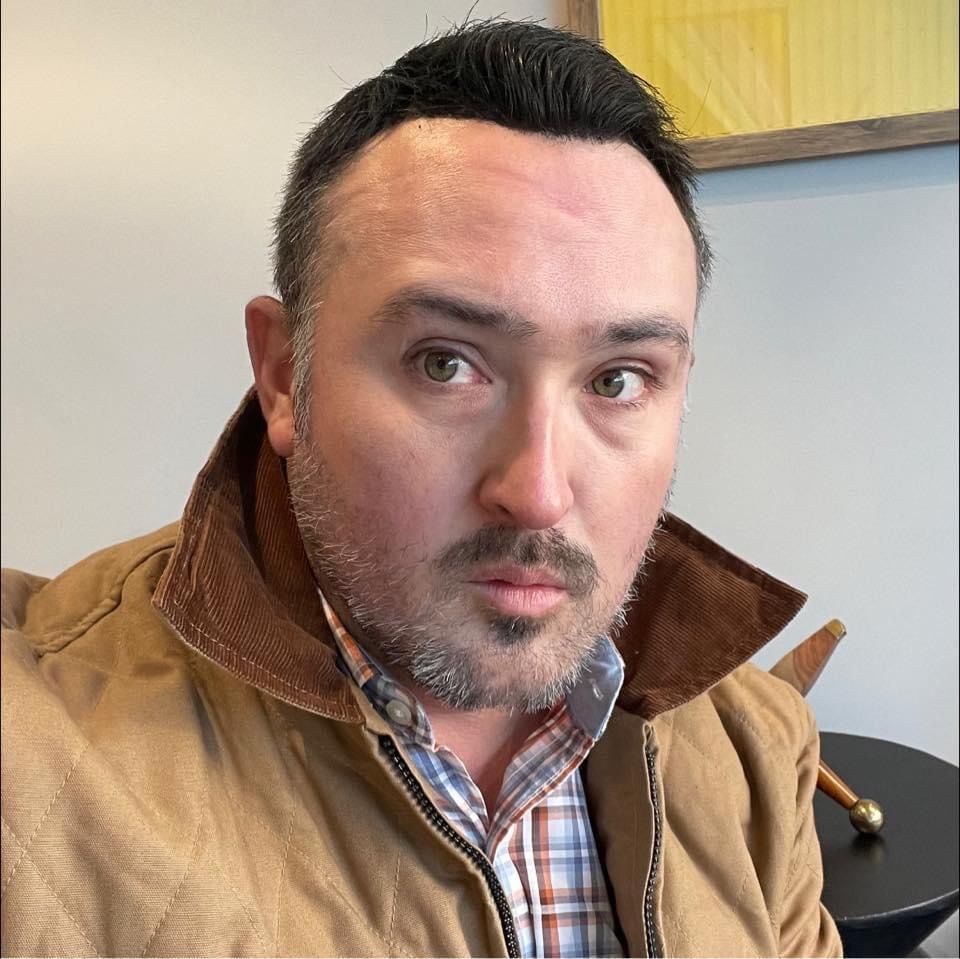 Hi, I'm Ryan Miner!
I'm the Skip, editor, and founder of the Glorified Crew Sopranos Blog.
I've been a die-hard fan of 'The Sopranos' for over 15 years.
With every rewatch, I've delved deeper into the layers, intricacies, and nuances that make the show a timeless masterpiece.
Beyond my passion for Tony and his crew, I am a writer, political blogger, digital agency owner, and healthcare marketing professional.
I blend my expertise with my love for 'The Sopranos to bring you unique insights and perspectives on this iconic series.
Email me at Ryan@GlorifiedCrew.com.