Do you remember The Sopranos Green Grove? 
It's more like a hotel at Captain Teebs! 
Oh, The Sopranos and their malapropisms!
The Green Grove storyline begins in the very first episode of The Sopranos, "The Pilot."
Here's what happens:
Tony Soprano visits his mother, Livia Soprano, played by Nancy Marchand, at her Verona, New Jersey home in Essex County. 
Tony becomes enraged with Livia when she refuses to dance with him to some of her favorite old-time tunes.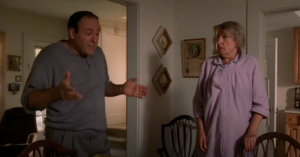 In typical Soprano fashion, Tony shouts.
Tony tells Livia that she needs to "occupy her mind" now that her husband, Tony's late father, "Johnny Boy" Sopranos, is dead. 
"And don't start with that nursing home business again," Livia barks. 
"It's not a nursing home!" Tony shouts back. 
"It's a retirement community!"
"You interact with seniors your own age. You go places; you do things!"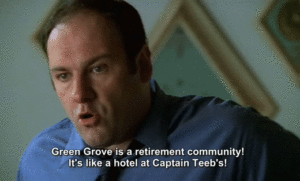 Green Grove Retirement Community Is Not A Nursing Home! It's a Retirement Community!
Have you listened to anything Tony Soprano said in the show? 
It's not a nursing home!
"It's a retirement community!" you'll recall Tony shouting at his mother.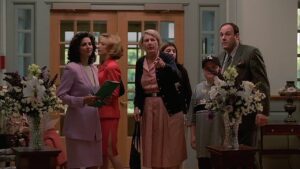 Technically, it's a Continuing Care Retirement Community (known in the senior living industry as a CCRC).
The fictional senior living community is equipped with a skilled nursing unit inside – but a nursing home it was not!
You can read about Continuing Care Retirement Communities on the AARP's website.
Green Grove Retirement Home is located in West Orange, New Jersey
Yes!
The actual Green Grove is named Green Hill Senior Living and Rehabilitation.
Green Hill Senior Living and Rehabilitation is a senior living community located at 103 Pleasant Valley Way in West Orange, New Jersey 07052.
And scenes from The Sopranos were recorded at the actual community!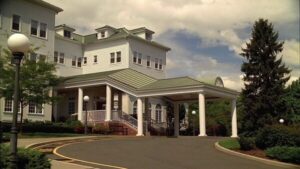 How To Talk To Mom And Dad About Senior Living? Stop Calling It A Nursing Home!
When speaking with family members and loved ones about their future senior housing options, it's essential to use the correct terminology.
"Nursing Home" is the most common misnomer when describing senior living communities.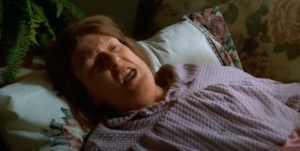 Nobody wants to think about leaving their loved ones inside the dreaded Grandma Gulag.
The well-known New Jersey elder law firm, The Goldberg Group, explains the difference between assisted living communities and nursing homes.
The Premier Guide To Green Hill Senior Living & Rehabilitation In West Orange, NJ
There are plenty of amenities and services at Green Hill Retirement Home that residents can take advantage of to help them enjoy life while aging in place: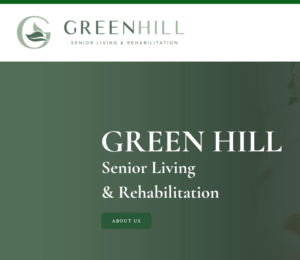 Are You Interested In New Jersey Senior Living For A Loved One? 
Your mother and father deserve the best senior living care!
Of course, they do!
Then schedule them a tour at one of New Jersey's finest senior living communities!
Read The Glorified Crew Blog
Keeping read the Glorified Crew Sopranos blog!